Books for Kids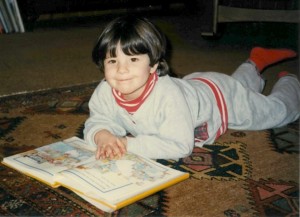 There are thousands of great picture books for young children. We acknowledge that our recommendations are but a few of the many that we could list. We share some of our favorites, the books that we use every year with our class. All of these books are near and dear to our hearts. Please feel free to share your favorites in the Comments section. (Note: If we do not list the illustrator, that is because the author also illustrated the book.)
Classic Stories
Make Way For Ducklings by Robert McCloskey
Blueberries for Sal by Robert McCloskey
All of James Marshall's versions of the classic fairy tales. (His take on Goldilocks is hilarious.)
The Frog Prince Continued by Jon Scieszka, illustrated by Steve Johnson
The Story of Ferdinand by Munro Leaf, drawings by Robert Lawson
Madeline by Ludwig Bemelmans
Caps for Sale by Esphyr Slobodkina
The Very Hungry Caterpillar, The Grouchy Ladybug, and other books by Eric Carle
Books about Feelings
When Sophie Gets Angry…really, Really Angry by Molly Bang
When Sophie's Feelings Are Really Really Hurt by Molly Bang
Alexander and the Terrible, Horrible, No Good, Very Bad Day by Judith Viorst, illustrated by Ray Cruz
My Many Colored Days by Dr. Seuss, illustrated by Steve Johnson and Lou Fancher
Mouse Was Mad by Linda Urban
Bear Feels Scared by Karma Wilson
Sheila Rae, the Brave by Kevin Henkes
Wemberly Worried by Kevin Henkes
A Porcupine Named Fluffy by Helen Lester
Ella the Elegant Elephant by Carmela and Steven D'Amico (a book about teasing)
How Are You Peeling? Foods with Moods by Saxton Freymann and Joost Elffers
Books about Perfectionism:
Regina's Big Mistake by Marissa Moss
Beautiful Oops! by Barney Saltzberg
The Dot by Peter H. Reynolds
The OK Book, by Amy Krouse Rosenthal and Tom Lichtenheld (also, see other books by these authors)
Books about Friendships/Socialization/Families
    Check out these 35 books that teach empathy in children.
Owl Babies by Martin Waddell, illus. by Patrick Benson
Farfallina and Marcel by Holly Keller
Owen & Mzee: The True Story of a Remarkable Frien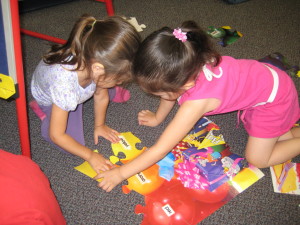 dship, told by Isabella Hatkoff, Craig Hatkoff, and Dr. Paula Kahumbu, photography by Peter Greste
Thunder Cake, Chicken Sunday, The Keeping Quilt, and other books by Patricia Polacco
How Leo Learned to be King by Marcus Pfister
 Books about Personal and Social Identity and Culture
Parents often ask us how to address their children's comments or questions about differences that they notice between other people and themselves. This may be about appearance, abilities, language, behaviors, family, etc. Often, too, the parents want to know what books we would recommend for their child that reflect their own identity or that help them understand differences. Here are just a few that we have read in our classroom.
Children Just Like Me, by Barnabas & Anabel Kindersley (in association with United Nations Children's Fund)
People, by Peter Spier (described as "a picture book for all ages," it would appeal to older preschoolers and young elementary, looking alongside an adult)
Loving Me, by Debby Slier (a board book for little ones with photos of Native American children and their families)
Elizabeti's Doll, by Stephanie Stuve Bodeen, illus. by Christy Hale (a young girl in Africa uses a rock as her doll, to mimic her mother caring for her baby)
Smelling Sunshine, by Constance Anderson
We Can Do It, and Brothers and Sisters, by Laura Dwight (children with varying abilities and disabilities)
Pancakes to Parathas: Breakfasts Around the World, by Alice B. McGinty, illus. by Tomoko Suzuki
Mrs. Katz and Tush, and Chicken Sunday, by Patricia Polacco
We also suggest that you take a look at the booklists (for all ages) on the website of Social Justice Books, a teaching for change project,  at: https://socialjusticebooks.org/booklists
Books about Math
The Table of Phinneas Fable, by Carole Greenes, Robert Balfanz, and Herbert P. Ginsburg (a book about shapes, that may inspire some cookie-baking)
Five Silly Fishermen by Roberta Edwards, illus. by Sylvie Wickstrom
One Hundred Hungry Ants by Elinor J. Pinczes, illus. by Bonnie Mackain
Five Creatures by Emily Jenkins (similarities and differences in different combinations within the group of five)
        Zero is the Leaves on the Tree, by Betsy Franco, illus. by Shino Arihara
Poetry Books and Alphabet Books   (there are hundreds; these are a few favorites)
Read-Aloud Rhymes for the Very Young edited by Jack Prelutsky, illus. by Marc Brown
Wynken, Blynken, and Nod by Eugene Field, illus. by Susan Jeffers
You Read to Me, I'll Read to You: Very Short Stories to Read Together by Mary Ann Hoberman, illus. by Michael Emberley
Books about the Natural World
Owl Moon by Jane Yolan
Who is the World For? by Robert Ingpen
Books about the Human World
Me and My Family Tree, and Me on the Map, by Joan Sweeney, illus. by Annette Cable
Many Nations: An Alphabet of Native America by Joseph Bruchac, illus. by Robert F. Goetzl
Books about Music
Mole Music by David McPhail
Mama Don't Allow by Thacher Hurd
Jazz Fly by Matthew Gollub (includes a CD)
Zin! Zin! Zin! a Violin by Lloyd Moss, illus. by Marjorie Priceman
Books about the Visual Arts
Seen Art? by Jon Scieszka and Lane Smith
Willy's Pictures by Anthony Browne
The Color Box by Dayle Ann Dodds, illus. by Giles Laroche
You Are My Work of Art by Sue DiCicceo [with art from museums around the world]
The Peaceable Kingdom by Ewa Zadrzynska, illus. by Tomek Oblinski, painting from The Brooklyn Museum
Mix It Up! by Hervé Tullet
My World of Color by Margaret Wise Brown, illus. by Loretta Krupinski
Books that Feature "Out of the Box" Ideas and Illustrations
Books by Caldecott Medal-winner David Weisner: Tuesday; June 29, 1999; Flotsam
Books by Caldecott Medal-winner Chris Van Allsburg: Jumanji, Two Bad Ants, The Polar Express
         Press Here by Herve Tullet (a New York Times Bestseller)
What Do You Do With a Problem? and What Do You Do With an Idea? by Kobi Yamada and Mae Besom
Could Be Worse by James Stevenson
The Hat, Hedgie's Surprise and other books by Jan Brett
Abuela by Arthur Dorros, illus. by Elisa Kleven (in English and Spanish, a fanciful tale about a girl and her grandmother)
A Stick Until …, by Constance Anderson (it is found and put to use as something else)
I Ain't Gonna Paint No More! by Karen Beaumont, illus. by David Catrow (a girl can't resist painting everything in sight, herself included)